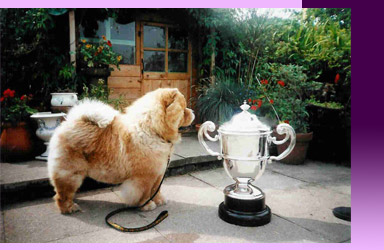 Ch Towsushet Genesis at Korina with Cruft's Cup
Cruft's is the world's largest dog show held by the Kennel Club every year. To be entered and exhibited at Cruft's a Chow as any other Breed must be qualified. To qualify for Cruft's a Chow Chow has to be entered in the KC Stud Book or win 1st, 2nd or 3rd at a Championship Show with Challenge Certificates, in one of the following classes - Minor Puppy, Puppy, Junior, Post Graduate, Limit or Open.

How it all started : the development of Crufts Dog Show

Crufts is named after its founder Charles Cruft. The young Charles leaving college in 1876 had no desire to join the family jewellery business. Instead he took employment with James Spratt who had set up a new venture in Holborn, London selling "dog cakes".